BUCKHANNON — Del. Bill Hamilton (R-45) responded to allegations of his involvement with Upshur Indivisible. On October 5, Mountaineer Journal reported that Hamilton attended a planning meeting for the "Hate Has No Home Here" event at Wesley Chapel. He was also photographed with Upshur Indivisible members, along with being listed as an attendee by the organization's founder Edwina Howard-Jack.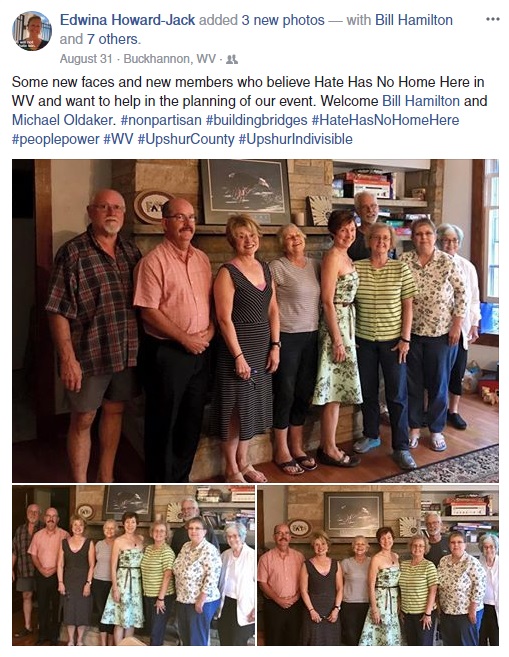 Hamilton stated that his attendance was requested by Upshur Indivisible members, but when he arrived, he was not allowed to speak at the group meeting.
In a statement to Mountaineer Journal, Hamilton expressed:
"I would like to address some material that was published in your recent article. I did attend as a request by some members of 'Hate has no place here.' I did not join their group nor do I intend to. The only item discussed at the meeting was their rally the weekend of 9-30-2017 which occurred this past weekend. I went with the anticipation of presenting my Senatorial campaign, but I was informed their group was not political so they did not allow me to speak. I do represent all the citizens of Upshur County. I wanted to hear what they had to say at their meeting.
Hate truly has have no place here, and I will add, including hate for our President. The photo shows that I was at their meeting and their post insinuates that I joined their group, but I did not. I felt their post with the photo was a little misleading, but I decided not to make an issue of it.
My opponent and his supporters are trying to make an issue of it. I repeat I represent all the people not just the ones that agree with me on every issue. It is unfortunate that the people of the 11th Senatorial District must put up with this type of political rhetoric the next seven months. Somebody is really good with photos. How did they highlight me and not everyone else? Oh well that's photography."
Hamilton serves as the delegate for UPSHUR-49, and is presently running against incumbent Sen. Robert Karnes (R) for West Virginia's 11th senatorial district.